MICHELLE CRENSHAW MUSIC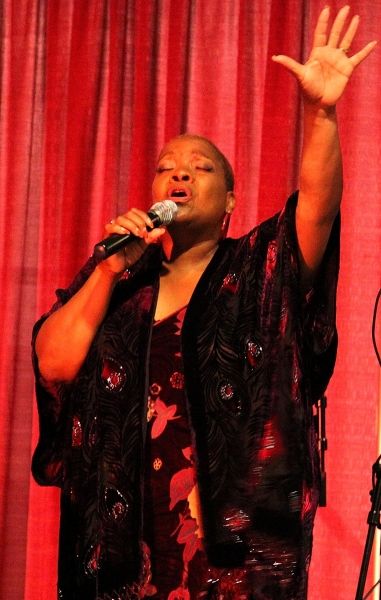 A versatile and dynamic entertainer, Michelle Crenshaw has appeared on stages across the country and abroad from the Village Gate and Blue Note in Manhattan to the Folies Bergere in Paris. She has toured Europe several times, receiving rave reviews for performances in Germany, Switzerland, Austria, Italy, Belgium, Holland and Denmark.
Michelle began her singing career in her hometown of St. Louis, Missouri. She got her start as an actress/singer in musical theater, achieving professional Broadway status when she joined the 1989 revival company of the award winning musical, "Ain't Misbehavin" starring Nell Carter. She's also performed with many regional theater companies including The St. Louis Black Repertory Company, The St. Louis Repertory Theater, The Indiana Rep in Indianapolis, Pioneer Theater in Salt Lake City, Utah, the Charles Playhouse in Boston as well as at The San Francisco AIDS Theater Festival  just to mention a few. Her favorite roles include, Dorothy in "The Wiz", Ruth in "A Raisin In The Sun", Bluespeak Woman in "Spunk", Miss Sherman in "Fame-The Musical" and of course, the role that has contributed to her tremendous success in musical theater circuits--Nell in "Ain't Misbehavin"-a role she has shined in countless times throughout her career.
Michelle is, first and foremost, a jazz/neo-soul vocalist, singing jazz and R & B most of her life with a healthy splash of gospel to round out her vocal style. Her repertoire includes hits and original compositions ranging from sassy Jazz and Pop to the powerful intensity of Gospel and Rock & Roll and the funky grooves of Rhythm & Blues and Hip Hop. She starred in and toured her own one-woman show, "Ladies, Legends and Divas", a caberet show tribute to her favorite female vocalists, offering vibrant renditions of hit tunes by divas like Tina Turner, Patti LaBelle, Aretha Franklin, Roberta Flack and others.
Michelle has had the privilege of working in the company of such superstars as Mary J. Blige, Branford Marsalis, Nell Carter, David Hasselhoff, Sean "Diddy" Combs, Walter Hawkins and the Love Alive Choir, Patti Austin, and Sophia Loren to name a few. She is also an accomplished music composer for theatrical, film, and recording projects. In 1993 she launched her songwriting career with the release of the hit "Mighty, Mighty" performed by Gospel girl group Sisters.  Her soloist recording career began the Grammy nominated single, "It Took His Blood", featuring the Voices of Life Choir on JerJon Records.  She was later named as one of only 50 Finalists selected by the prestigious John Lennon Songwriter's Festival, receiving accolades for her original composition, "Open My Eyes" (which can be heard on the My Music Flows page of this website). An accomplished playwright and director, Michelle has written & produced numerous theatrical musicals, one-act plays and educational touring shows. She is presently Producing Artistic Director of Liberty Playhouse,  givng her nearly 30 years of solid experience in the theatrical production industry.  Michelle was made her American television singing debut on the Emmy award winning daytime drama, the Young & the Restless (see the links page for a viewing of that performance). Her recent film and television credits include an appearance on the Netflix series "LOVE" (due for release in the fall of 2015)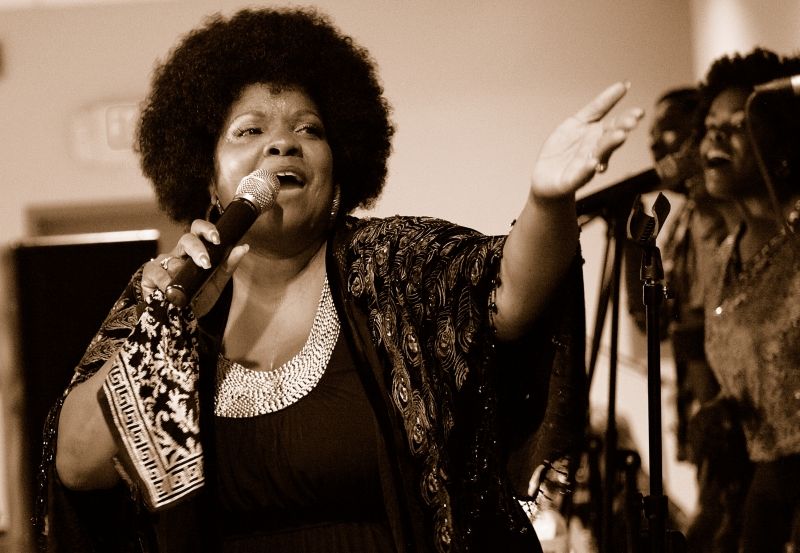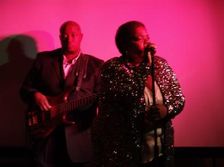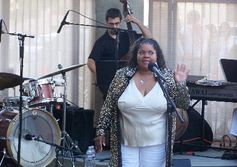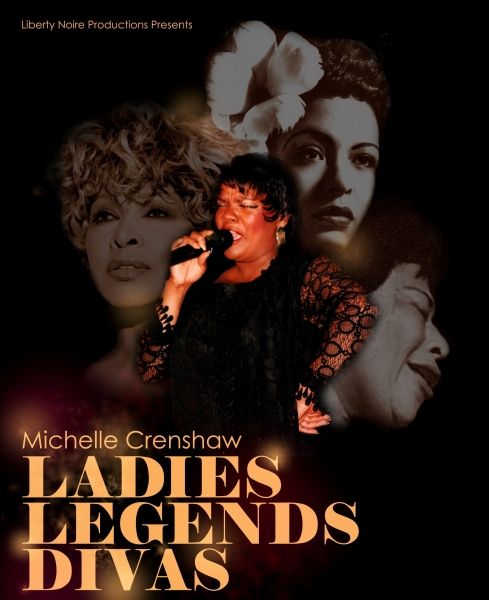 Michelle relocated to Los Angeles in 1997 to pursue her singing career. Soon after her arrival, she formed her signature band "PHUNKESTRA" bringing her original Phunk-Hop music style to L.A. audiences. After a time of working behind the scenes, session recording, producing, etc.  Michelle returned to her first love, live performance, in the revival of her musical review, Ladies Legends, Divas at the Santa Monica Civic Auditorium in 2012.   Now, she is excited to be back in the performance spotlight where she belongs blending a vibrant and sultry mix of jazz, pop and neo-soul vocals into a polished and electric club act. Whether you experience her with just a pianist, a trio or full orchestra, Michelle leaves audiences yearning for an encore at every show. Jazz lovers, Blues enthusiasts, Pop fans and R & B groovers agree: "Michelle is worth seeing again and again" - Tim Daniels (Luzar Entertainment)
Don't miss your next opportunity to experience Michelle Crenshaw in concert.
THIS DIVA IS "ALL THAT" AND THEN SOME!
PERFORMANCE CREDITS INCLUDE:
FILM/TELEVISION:
LOVE-Judd Apatow-(Director)-Netflix Series-2016 release
JOY-David O. Russel-(Director)-Demo Vocals-2015
YOUNG & THE RESTLESS-David Kurtz-(Producer) Lead Vocals-Off camera-2010
YOUNG & THE RESTLESS-Guest Appearance-2008
CARTS - Chris Cashman-(Director)-2006
MEET THE FAMILY - Stan Lerner-(Director)-2005
CLUBS & OTHER VENUES:
Santa Monica Civic Auditorium
Barbara Morrison Performing Arts Center(Leimert)
Industry Cafe & Jazz (Culver City)
The Dresden Room (Hollywood)
LaVae's House of Music (Los Angeles)
Al Fresco's (Los Feliz)
The Westin Hotel (Los Angeles)
The Temple Bar (Santa Monica)
Highland Grounds (Hollywood)
Los Angeles Theater Center (Downtown LA)
Doubletree Hotel (Ontario)
A full list of professional credits is available upon request.
PHUNKESTRA /noun/1.an orchestra of phunkalicious flavas of music served up on a plate of phunktastic beats and seasoned with sumptuously sauteed phunkadacious lyrical lines brought together by the power of ONE with one primary objective: to make one shake one's rump and bump it like "ya' know how!" whilst you "think about" and DO something./plural noun/2. Alan Mark Lightener on Drums, Jeff "Coltrain" Colbert on lead/rhythm guitar, Phil "Philly" Peterson on Bass and Michelle Strickland-Crenshaw on lead vocals-accompanied by a plethora of major phunksemble players to round out the PHUNK-ESTRA.